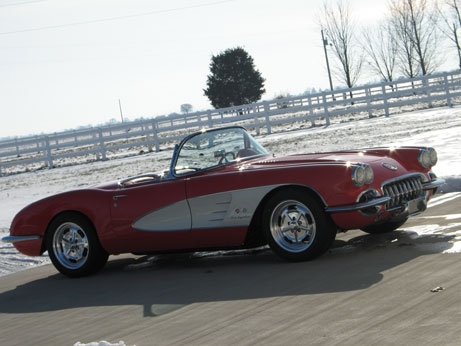 At first glance, 1uvaKind might seem like a standard interpretation of the vette rod/replica concept combining a 1958 Corvette style with a modern Corvette drive train. Honoring the original, 1uvaKind is finished in the classic Signet Red, boasts custom red leather interior, and a particular focus on classic style in many of the esthetic choices.
But behind the classic facade is performance technology. It boasts an LS2 engine and GM Performance ECU. 1uvaKind is the only, or at least one of very few, 1958 Corvettes to feature a C-5 drive train with a 4L60E automatic transmission. From the round tube chassis to the stainless steel exhaust to the modified torque tube and related body modification this is all custom.
The gauges display a 1/4 mile ET, 1/4 mile mph, 0-60, and a lot more. It features power rack and pinion steering, adjustable aluminum coil over shocks, Lokar shifter, climate control, Sony sound system, and keyless entry.
Though a sure show stopper and with many talking points, the bottom line is drivability. 1uvaKind was built to enjoy on the road from a trip to the gulf club to a Sunday afternoon cruise.
See Complete Specifications 1uvaKind Specs
See More Pictures 58 Build Gallery
Back to Pugesek Creations